Chinese celebrate Lunar New Year, hope for a better 2009
With red lanterns hanging from the eaves, the bangs of firecrackers outside, and tables of delicious food, Chinese people, including millions of quake survivors, observed the Lunar New Year eve in the traditional way.
In the prefab of quake survivor Hu Suqiong, a dozen family members gathered at the table on which were traditional local foods such as preserved ham and sausage.
"I really had not expected that I could celebrate the Spring Festival with everyone in such a good prefab room," Hu's husband Chen Ziyi toasted Sunday noon's "reunion" (tuanyuan in Chinese) meal", which take place among Chinese families on the Lunar New Year's Eve.
The "Qinjian Family" prefab housing area where Hu Suqiong lives near the downtown of Dujiangyan City has 120,000 people. Dujiangyang was a worst-hit area in Sichuan Province in last May's devastating earthquake which left more than 80,000 people dead or missing.
"I feel rather satisfied and thank all those who have helped me," Chen said.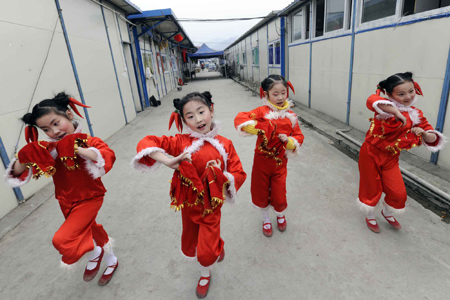 Four girls rehearse for a show celebrating the Spring Festival in Pengzhou, a quake-hit city of southwest China's Sichuan Province, Jan. 25, 2009. Quake zone residents in west China had made their own ways to welcome the Spring Festival, or the Chinese Lunar New Year. [Xinhua/Wang Jianhua]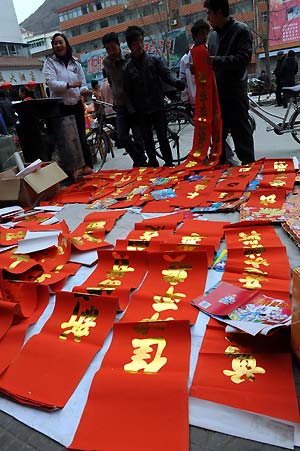 Locals select Spring Festival couplets at Kangxian County in Longnan, a quake-hit city of northwest China's Gansu Province, Jan. 25, 2009. Quake zone residents in west China had made their own ways to welcome the Spring Festival, or the Chinese Lunar New Year. [Xinhua/Ma Ning]